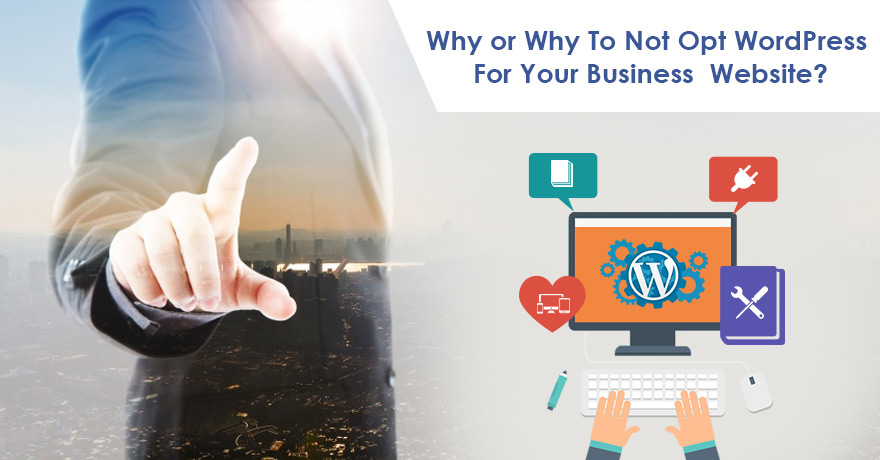 In today's highly competitive business environment, a quality website plays a crucial role. The website, its design, and content are the soul of every online business. After all, the website is the first communication channel between the entrepreneur and his/her potential customers.
One of the biggest advantages of a website is that you will be available 24 hours a day, seven days a week for your customers and can be reached out from anywhere in the world.
So, now that you know the worth of having a website, it's time to become familiar with the platforms which will be great for your website. Well, what about WordPress?
WordPress is an open source content management system that is based on PHP & SQL. Many time-saving features of WordPress will make you fall in love with it. In this article, we will talk about the in-depth features, perks, and pitfalls of WordPress.
But as we know that every coin has two sides, this platform also has pros and cons. Let's first know about the cons of using WordPress for your website.
Here's Why You Should Not Opt WordPress for Business Website Development
1) Automatic Upgrades aren't Always Good
Automatic upgrades are good, but not always. Well, if you think that automatic upgrades are beneficial for you, then you should think again.
All the upgrades are different and are used for different purposes. You never know how your website will react to a plugin update and other functionality. So, it is recommended by the experts to disable the automatic update of themes and plugins. One right way to upgrade your theme and plugins is to do it manually.
Suggestion: If you want to update your WordPress manually, then first take the backup of your website. So in case any error or misconfiguration is encountered, we can restore our website safely with the backup version.
2) As it's Open Source, It's Vulnerable to Cyber Attacks
We all know that WordPress is widely known for being an open source content management system. But sadly, this is one of the pitfalls related to this platform. Though the support and security community works nicely with WordPress, it is an easy target of hackers since it is open source and widely used.
When you use this platform, your site becomes vulnerable to cyber attacks as the code you use has been written by someone else. Therefore, there's a possibility that it might contain some malicious code or bug which could hinder the functionality of the site.
3) Your Website May Run Slowly
The speed of the site is a crucial factor if you want to attract a wide range of audience. The audience doesn't like to wait for so long. If you let them wait, then chances are they will switch to some other website.
As a WordPress site features a lot of generic codes and plugins, this could make the site to respond slowly. So, it is always good to consider using a high-performance hosting platform to avoid such potential problems.
4) MySQL Database is Not a Configured Database by Default
The database is the soul of the website. One of the major problems with WordPress is that it uses MySQL as a database backend, and we know the fact that MySQL is not a configured database system by default.
All the users are not tech-savvy, and it becomes difficult for them to handle it with ease, and this can eventually make the WordPress websites vulnerable to cyber attacks and hacks.
5) You May Not Get Your Desired Templates
Every business is different. It has different requirements and a set of attributes. Though there are plenty of templates available in WordPress, many templates are not designed as per your brand. If you do not get your desired template, then you have to make some extra efforts to customize your templates.
6) You Can't Make Modifications without Professional Assistance
You can easily make changes and modify your WordPress website according to your requirement. But the fact is that WordPress has its PHP syntax and functions, and sometimes, you have to use HTML, CSS, and PHP codes to make certain changes.
Well, if you have knowledge about the same, or you hire a company for managing it, then it is fine else you might end up hurting your website.
Despite these pitfalls, many people love to use WordPress because it has some simple and time-saving features. So now let's look at the pros of using WordPress for your website.
Here's Why You Should Opt WordPress for Business Website Development
1) Easy to Use & Update
One of the major reasons to consider WordPress CMS for enriching your website is that it is easy to use and modify. It is a blend of simple yet meaningful features that are very user-friendly.
And especially when it comes to B2B website, experts always recommend WordPress because it has a small learning curve. One of the important perks related to WordPress CMS is that you don't have to go to the IT department to update it, you can easily log in to your website and make the changes right away.
2) Responsiveness
The device-friendly website is the need of today's market. While designing your website, make sure that users can visit it from any device.
The site's appearance and content should be clear and compelling, whether you are using PC, laptop, tablet, or smartphones. Responsiveness is a strong feature that offers a great look-and-feel at all the devices.
3) Inexpensive
Unlike other technologies, in WordPress, you don't have to spend thousands of dollars on improving your website.
No matter, whether it is a blog or an inclusive website, you can start your project with a basic package and can eventually add new plug-ins and functionalities as and when required.
4) Reliable Platform
WordPress is not a new platform, it has been around for more than ten years, and users are well aware of its support and security upgrades. WordPress is a reliable system that will allow you to update your system periodically to ensure continued security for websites and blogs.
Also, there are various reliable and secure third-party tools and WP plugins available to protect your website against cyber attacks or any other damage.
5) Thousands of Plugins for Better Functionality
WordPress comes with a myriad of extraordinary features and functionality. WordPress features a lot of plugins which you can use to extend and expand the functionality of your site.
Plugins work remarkably with WordPress. From adding pictures to the slideshow to creating a beautiful layout, you can try your hands on several functionalities on both website and blogs. There are more than 40,000 WP plugins from which you can select one according to your requirements.
6) Numerous Templates
Similar to plenty of WP plugins, there are numerous WordPress templates available in the market. A lot of companies use WordPress themes and templates to give their site an amazing look-and-feel. If you have a lack of budget and can't hire a designer, then you can move to WordPress and pick any of the free templates that suit your business needs.
No wonder, the WordPress templates are an exceptional way to begin your projects, and they will help you solve complex web programming tasks. So if you want a hassle-free website design process, opt WordPress!
7) SEO-Oriented
We are living in a highly competitive world where having a website alone will take you nowhere. You always have to go for marketing options such as SEO. You might have heard that a website without SEO is like a car without petrol.
Thanks to WordPress that features some amazing SEO functionalities. There are many inbuilt SEO plugins such as Yoast, Google XML sitemaps, SEMrush, and a lot more. This allows easy integration into your website, which helps your site to be found in online searches or search engine results.
8) Easy to Redesign
The features of scalability and compatibility are popular in the high-tech world. They make it simple and convenient and of course, easier and less inexpensive to redesign.