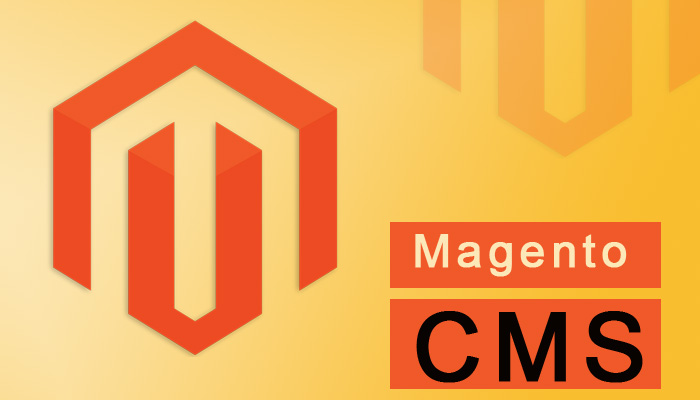 Magento CMS (Content Management System) is an open source platform written in PHP. It's a creation of Varian; a fast growing ecommerce script that uses Zend PHP and MySQL databases. This features affluent platform gives the online merchants the power to control the appearance, content and functionality of the site also.
Coming with a very instinctual administrative interface that helps in powerful marketing, great search engine optimization as well as catalog management tools, so that the online businessmen have incomparable power to build or edit websites which best suites their business requirements that are distinctive from one another.
Since open source CMS (Content Management System) is extremely essential in today's competitive world, the owner can gain control over the security and quality that they are providing on the website and thereby lessen the prices too.
Magento CMS Features
Magento favors a web template system that creates multiple similar-looking pages as well as customizes theme.
Themes
Magento CMS
offers a basic theme that establishes an ecommerce site. The theme is contemplated for customizing all pages via adding or editing the HTML, CSS and PHP. Magento users can install themes that change the display of the site or its functionality. Without layout or content of pages, themes are interchangeable with the help of magento installations. These themes are set up via uploading theme folders using SSH or FTP and enforcing them via the backend admin system.
Modules
Magento developers have designed Magento plugins that enhance its fundamental built-in functionality.
Magento CMS
users can even install modules via downloading them and also uploading them to their server or using a module's Extension Key by Magento Connect Manager.
Integration
Magento permits users to integrate a number of different domain names into a single control panel and cope with more than one storefront at a same time from a single admin panel.
Magento Certification
There are four different types of magento certifications. Three of them target to prove developers' strength in implementing modules; remaining one (Certified Solution Specialist) aims at business users (analysts, consultants and project managers). The Front End Developer Certification of Magento is basically targeted on improving the UI (User Interface) of built-in applications.
This certification is associated with layouts, CSS, javascript and templates. Magento Developer certification is geared to back end developers who materialize the core modules. The Plus certification examines profound understanding of Magento Enterprise modules and the complete architecture.
Magento "Imagine ecommerce" Conference
This Magento ecommerce conference held in annually basis termed as "Imagine ecommerce". This first conference or seminar is attended by more than 600 magento developers, merchants and partners. The goals of this conference are sharing ideas of ecommerce and giving networking opportunity sessions.
Magento Development Company
Magento Development Company
delivers feature-rich and user-friendly content management solutions that enable you to make changes in all areas of a site when needed. Even, it provides you in-built analytic to ensure whether your changes made the precise impact. It is the leading provider of open source digital platform and cloud-based omni-channel solutions.
Magento Development Company
gives increased control over the terms of merchandising to promotion and a lot more, an increased ROI (return on investment) that leads to improved growth.
There are multiple editions available in Magento CMS that offers Magento Development Company, so you could pick the one that suits your needs perfectly. With the help of the company, not only customer service will be elevated but your order management becomes very easy also. Magento Development Company is known for delivering first-class quality custom Magento Development Services.
Its services offer custom Magento templates that deliver a powerful message, with the help of this you can set up a strong web presence. Stick out from the crowd through getting an eye-catchy design that is unique to you. It offers end-to-end Magento Development Services with experienced developers and a dedicated team.
Magento is a popular content management and ecommerce system with some highly developed features. In the kingdom of internet, a lot of people are dependent on the internet with the purpose of commencing business. In this hard competition, Magento acquired a lot of popularity and excellence to present itself as the most favored system. Magento Development Company is aware about the tough competition that is popular in the market. Therefore, it completes its services with perfection and full professionalism to stand out as a unique site.
Some of Magento Development Services
Developers use the recent technology and stay updated with the latest versions of Magento.
Developers complete their work with full perfection, that is the key to its success and so the services are popular as a professional PSD to custom Magento development service provider.
Its services use the advanced communication system that maintains faultless communication between developers and clients with the purpose of carrying out custom Magento development excellently.
It is equipped with high tech or up to date technology to process custom Magento Development effectively that can grow business reach.
In order to grow a business brand, its team service sets web pages according to the standard of your business.
Many services are provided like Magento Website Development, Custom Magento Development, Responsive Magento Website, Magento Theme Development, Custom Ecommerce Solutions, Custom Extensions Development, Magento Module Development, Magento Shopping Cart Development and Support & Maintenance.