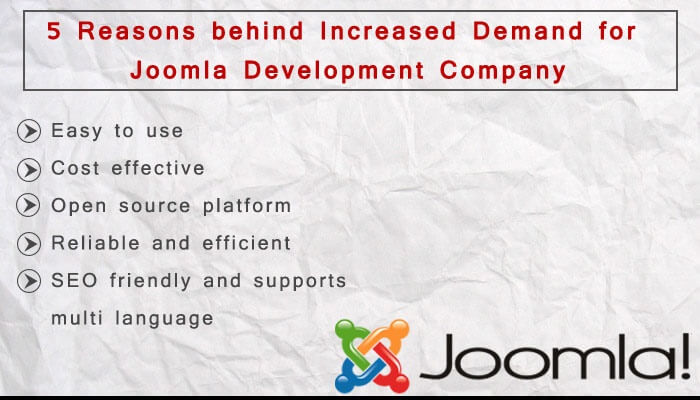 Content Management Systems (CMS) are helpful for web development. You can develop an amazing and unique website or application and manage the content as well. Due to the widespread of the internet, people tend to look for convenient platforms and web applications for their business.
Although there are several well-known CMS available in the market, the one with the content management system that has become the most in-demand these days is Joomla CMS. Joomla has taken the web design company by storm. It is one of the most leading content management systems in the world. It has seen an increase in demand because organizations require websites that need to be updated frequently.
Joomla Development Company can help you in developing complex content-managed designs and other content management software by the use of small to large web applications. You must be wondering why Joomla for website development? Joomla is one of the most advanced content management systems that offer advanced technology along with various solutions according to the need of the particular business.
As it is an open-source platform, the developers can easily add or change the features and functions to make their website more attractive and versatile. Today's businesses require complete control over the content of their websites and their impact on the search engine ranking. Thus Joomla allows them to design and meet the challenge by providing powerful content management capabilities to the website.
5 Reasons Behind Growing Demand of Joomla Development
Joomla has become one of the most popular and in-demand content management systems. Joomla has become popular with web design companies all over the world since it enables designers to provide customers with a powerful and cost-effective solution that can be easily expanded for future enhancements.
The cost factor is one of the main reasons why Joomla is so much popular in the world of online business. It is downloaded free of cost from World Wide Web. Many small start-up companies and developers prefer Joomla. Thus Joomla Development Company is also a cost-effective platform for web designers who develop dynamic websites and can reach out to the world.
Joomla is free open-source software, which means where the web designers and software developers completely modify and enhance the system to specific requirements of a business. It is packed with numerous extensions, add-ons, and plugins. The plug-ins allow developers to add endless functionalities to the websites and also is open to new designs and techniques.
Joomla is an open-source software where anyone can contribute their bit to upgrade and develop new modules and components. It is open-source thus is cost-effective when compared to others. It requires less time to develop. There are fewer chances of problems related to Web Development. This program offers a variety of options to the user. Thus Joomla development is considered efficient and better for website solution providers.
Joomla is easy to understand and use. You do not require technical experts to use Joomla cms. Joomla template development is easy for any use. The new pages can be modified or added easily by using CMS which provides ease to most users. You can add even text, images, and content easily with the tool offered by the Joomla CMS platform. Thus good working knowledge of Joomla development will avail no hassle of installation and hosting.
SEO-Friendly and Supports Multi-Language
Joomla development has easy access to search engine optimization. Joomla has a large established community on the internet. Joomla website development offers SEO-friendly URLs which yield your web pages higher ranking in search engines. It is one of the best options for website development.
It also has a feature that includes a time-saving option wherewith the practice the development time of the project significantly reduces. Whereas when we speak about Joomla development it also supports multi-languages without any problems or hassle. Starting from the language the visitor can also turn into their language which they feel most comfortable.
This adds as a plus advantage in Joomla Development thus, asking it more users friendly. Changing content in your own language has become a trend these days, which helps you to implement multi technologies and features to a website which makes it more attractive and effective.
The right
Joomla Development
Company provides you the platform that increases the versatility and availability of resources thus making your work easier. The proficient Joomla developers are highly efficient and roll out their projects in a very timely pattern, therefore, helping the companies to meet their targets. Thus Joomla development is an efficient cms platform. So when we talk about its reliability, you can count on it.
It is a very reliable, safe, secure, and robust website that will not only load faster but also makes sure that the components are working properly and aren't crashing unless it's a rarity. There are many more features and advantages that have increased the working of Joomla developers with the best Joomla web development company. With the variety of options and features in Joomla development, we get to see a wide range of beneficial aspects.
Joomla developers are in demand these days, and thus, people are awakening to the benefits of Joomla as a content management system. It can also be used by any company or organization to incorporate a qualified team of developers and designers in handling Joomla-based applications. So, it can be said that Joomla Development Company not only helps in saving money and time but also provides a polished and professional look to your website.