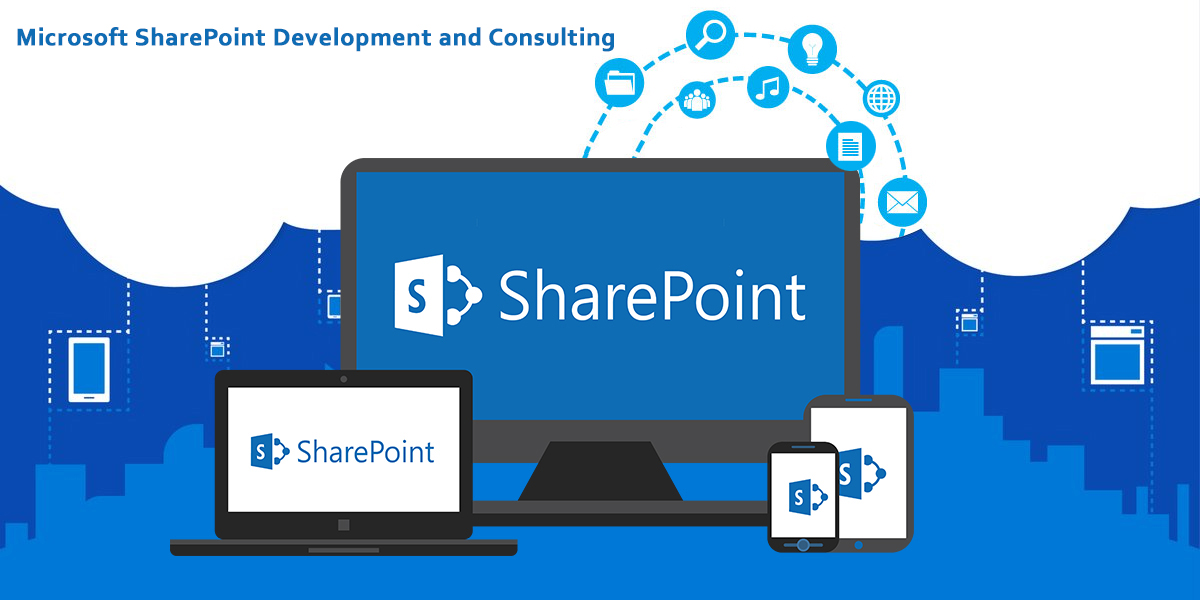 Become familiar with our comprehensive SharePoint consulting services for meeting your requirements and growing your business on SharePoint. Being a reputed Microsoft SharePoint Development and Consulting company, we are known to provide the most effective services to clients.
Our proficient team of professionals has huge experience of working in SharePoint development and is infused with all required skill sets, thus providing our clients with the best IT services. While operating vast software like MS SharePoint, expert support and guidance is very crucial, and we understand this better. Keeping this in mind, we are ready to assist you round the clock, and our team works all day and all night to provide the best possible services in the domain.
Being an established SharePoint Consulting service provider, we start by determining client's needs, whether their business calls for a SharePoint or not, to determine the need for SharePoint consultants for their prospects. With our expert SharePoint developers and analysts, we offer SharePoint consulting towards the successful implementation of client projects.
With the assistance of a versatile team of technical experts, Covetus can easily handle and deliver projects of all sizes in SharePoint. Having worked for clients from all around the world, we can manage projects from multiple domains like Education, Healthcare, Travel and Tourism, Telecom, IT, and many more.
Our SharePoint experience makes us an authorized company to provide clients with all-inclusive SharePoint services fostered by our development proficiency. Our expert consultants begin with customary basic approaches and solutions for the clients.
Microsoft SharePoint Services We Offer
Our all-inclusive services include developing, implementing, and maintaining SharePoint applications. Our service offerings for enterprises and businesses include:
Setting up and developing portals
Development of custom business logic
SharePoint consultancy
Development of business process applications
Migration of SharePoint versions
Support and training
Development of SharePoint as a document management system
Integration of FAST search server
Development of InfoPath and workflow
Custom web parts Development
Development of business logic
What is Microsoft SharePoint?
Microsoft SharePoint is an innovative way to work together where various functions that are traditionally different and separate are connected. It is a browser-based collaboration and document management platform from Microsoft.
Using Microsoft SharePoint allows groups to set up a centralized space that is protected by password and thus making it easier to share documents. These documents can further be downloaded, stored, edited, and then uploaded for continual allocation or sharing.
Microsoft SharePoint is a resourceful framework that is used as an internal collaboration tool and is effortlessly scalable to deploy as an enterprise content management system. However, for some organizations, the multifaceted platform SharePoint is yet in the initial stage of its development.
If we talk about the technical perspective of Microsoft SharePoint Services, then there are the Windows SharePoint Services (WSS), the Microsoft Office SharePoint Server (MOSS), and Microsoft Search Server. Each of them brings their functionality to the table and builds upon each other.
Covetus helps small and medium scale enterprises to latch on to a clear picture of their IT investments backed up with their best ROI (return on investment). By keeping pace with the latest Microsoft SharePoint development tools, we offer enterprises money-spinning resources for their long-standing IT efficiency.
What is Microsoft SharePoint workspace?
Microsoft SharePoint Workspace is a discontinued desktop application that is designed with a purpose for collaboration of the documents in the teams where members are offline on a regular basis and the same network security clearance is not shared among them. By the means of research, design, development, and implementation, we strive for all-inclusive customization solutions.
SharePoint Implementation/Integration
Our team at Covetus helps the clients with configuration and installation, creation of custom business workflow, SQL server reporting, dashboard creation, SharePoint site branding, intranet, and extranet website management, integration, and analysis business process, automation, implementation to migration or up-gradation of their SharePoint site from existing applications.
SharePoint Business Intelligence Solutions
We provide our clients with highly competent reporting tools to assist them with the precision, scalability creating of rich BI dashboards slotting in summaries, charts, and visual graphics.
Business Process and Workflow
The core process of an enterprise is the aspect that drives its profitability. Subsequently, we focus on streamlining this core process and professionally manage the compliance requirement. Moreover, we build templates en route for abridged IT expenses and exploit an active reporting structure for supervising your entire business workload.
SharePoint Excel Services
The creation of interactive reports and workbooks, all fall under SharePoint Excel services. These workbooks could be accessed from anywhere and assists in the research and data gathering phase. For maximizing your SharePoint platform potential, we target SharePoint service areas that include:
Dashboards
Enterprise content management
Applications
SharePoint branding
Social network
Workflow
Web content management
Portals
Enterprise record management
SharePoint customization
WebPart development
Our experienced and skilled team is proficient enough to tackle almost any kind of enterprise requirement. Based on the requirements of our clients, we leverage our expertise in MS SharePoint services. We offer effective SharePoint development in the direction of optimizing the core competency of the platform.
We hire professionals and not employees, thus catering to deployment, management, and support in favor of the client's SharePoint needs. Well, if you are searching for Custom SharePoint development and enhanced overall content management reports and business intelligence solutions at competitive rates, then you hire us for Microsoft SharePoint consulting services.