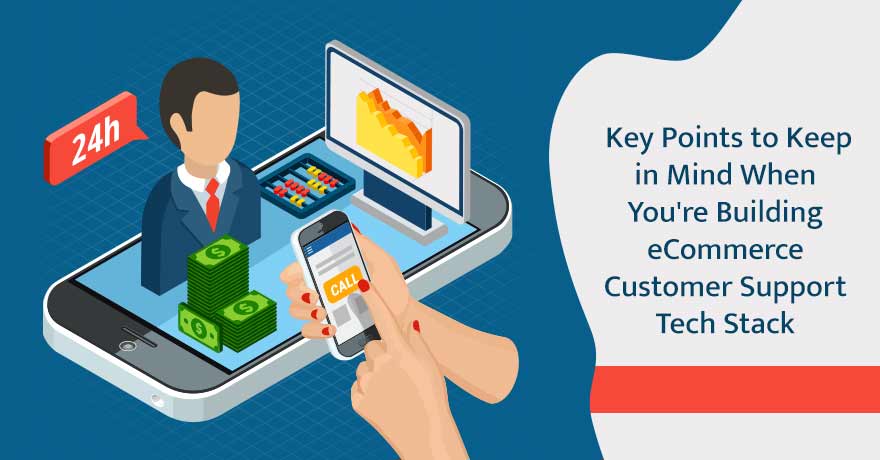 Today, be it a small or large-sized business, everyone is coming online to grow their customer base and to reach more people around the world. With more people coming online, the selection for the right tools can make a huge difference. Ecommerce businesses have access to several technologies and allow customers to have a soothing online journey.
With several options available to choose from, selecting the best stack for your eCommerce store is a daunting task. Whether you are updating the existing tech stack or building a new one, using the latest technologies plays a crucial role in setting business. But before you decide on choosing the tech stack, make sure that you have analyzed your business needs and requirements.
According to business needs, anyone could hire the best e-commerce team to design their custom solution. eCommerce is a challenging sector, where success is meant after dedication and diligence. Let us read why an online business should have a great customer support tech stack.
Why Do You Need to Have an Excellent eCommerce Customer Support Tech Stack?
When anyone does online shopping, what they first look at is the website should be user friendly and offers incredible services. If they do not find an eCommerce store the way they want, they look at other competitors who offer the same services.
If you are planning to start an eCommerce store, then make sure it supports several variables and competes with the existing online businesses. Below are a few factors that you must consider before you start an eCommerce store.
1. Support Customers at a Global Level
eCommerce happens online; therefore, transactions can happen anytime and anywhere. For instance, a customer in London would want the same service that you provide in America.
So, make sure that you are prepared to deliver the same service globally. Supporting the customers sitting in any part of the world is key to growth.
2. Build an Online Trust
Offline businesses have the advantage of gaining consumer's trust. People trust a business more when they deal one-to-one.
That's not an option in the online business. To overcome this lack of trust, you should make sure that your customers are happy with your service.
Be transparent and easily reachable. Show your customers reviews. These reviews add authenticity and trust in an eCommerce store.
3. No Technical Issues
Everyone wants an amazing experience when it comes to online shopping. In case any technical issues come, it is a turn off for customers. Make sure that your team is trained in resolving these issues and check them frequently. No technical issues enhance customer loyalty and improve your ranking in the industry.
Several eCommerce tools are available that could help you in resolving these matters and give fewer errors. Furthermore, this also improves the conversion rate.
Conversion Rate Optimization
is the building block of any eCommerce store.
CRO is essential for any business to ensure that everything is working fine and smoothly. Sometimes, designing becomes a major reason for the increased bounce rate. So, make sure that you use the
best web design trends
to improve your e-commerce business.
Key Things to Look for in an eCommerce Customer Support Tech Stack
Since there are several factors to choose from when you are doing online business, here are a few key things that you can't ignore.
1. Less Manual Work and More Automation
Manual work takes time, plus give more errors. Having software that could reduce the time and errors is a treasure in the online industry. The ability to automate manual work is important for growth. When you are doing everything manually, it becomes difficult to make changes.
Furthermore, manual work lacks security, is expensive, and takes up a lot of space. Automated work, on the other hand, has lower operating costs, easy integrating services, and has faster ROI. Have software that could reduce the work and organize support requests.
2. Best Tools for Scalability
If you are planning to open an eCommerce store for a limited area, then there is no need for choosing tools that are designed for the bigger eCommerce store. But, in the coming years, if you are planning for the expansion, then your tools should support the compression and improvement to fit your business.
Know about the tools that would save you time and hassle. Remember that different tools come for different categories. For instance, you have marketing tools, analytical tools, product management tools, and more.
Each category tool serves a different purpose in the business. Where and how to choose these tools is a challenge. As a business owner, you should keep in mind the logistics and the scalability.
3. Differentiate Between Success and Failure
To make a smarter choice, you should know what success and failure are. Use the analytical wisely to know where your business is growing and lacking. Data and analytics could give you an in-depth view of your day-to-day-process. This, in turn, could help you in deciding on what to keep and skip for the future.
4. Personalized eCommerce Customer Service Stack
Several businesses use independent tools based on requirements and functionality. Also, independently built software focuses more on improving a single product.
No matter which tool you are using in what manner, it won't be successful unless it integrates with other existing tools. So, ensure that whatever tool you are using it allows you to merge and integrate with other tools existing in the market.
Important Things to Note While Building an eCommerce Tech Stack for Customer Support
Here are some important elements that all eCommerce customer support stacks would need.
1. Universal Inbox
Keeping track of customer's email, chat messages, and voicemails, when your business is at a peak is a difficult task. Furthermore, it becomes essential to have a record of the customer's queries to be organized and sent to the team.
The universal box here keeps everything organized and ensures that no customer goes unanswered.
2. Impressive Chat Tools
Chat software reduces expenses and improves customer service and loyalty. Live chat plays a crucial role in any business. Chat provides visitors with instant access to support staff.
Live chat solves the problem quickly and builds more trust. Choose live chat tools that offer the best chat capabilities and give a real-time solution.
3. Customer Relationship Management
Businesses having better customer relationship management holds the team together. No matter what industry you are or what services do you offer, making a great customer team is essential for business.
Customers give you feedback about your services offered, and in return, help you grow. Find the great CRM tools that could benefit your business. With the help of CRM, you can save projects, invoices, and customer service requests in a better way.
4. Reward Programs
Building an online relationship with customers is not a preferred choice for everyone. However, it should be used by every business to grow its reach and to improve its customer base. Reward programs are the easiest way to nurture loyalty between brands and customers.
Use different tools that deliver programs like reward points and customer referrals to engage them and to enhance the brand experience. A better CRM system reminds you of the appointments and notifies you about the follow-up emails.
5. Optimize Your On-Site Search Experience
It is believed that customers who use the search bar get converted into potential customers more easily than those who don't. Use third-party solutions, machine language, and AI to deliver accurate results. This reduces the costs of manually choosing the products and also saves time and money.
6. Enhance Your ERP Integration
If you get over 500 orders per day, then this is the best time to use Enterprise Resource Planning to connect with your eCommerce store.
Using ERP is one of the best and the easiest methods to differentiate your business from competitors and to enhance your customer's shopping experience. ERP reduces the risk of errors and lets you focus more on selling and branding.
Best Open Source Technologies to Build the Best eCommerce Platforms
The excellent user-friendly eCommerce platforms are built using the latest and the best open source technologies. Check out a few amazing technologies that should be used by an online store.
1. Magento
Magento works best for complex e-commerce sites. It is a user-friendly platform and has a great team of experts who keeps on enhancing the extensions using the latest features.
It is the best open-source content management system that enhances the look of a website and its functionality. It is fast and highly customizable. Plus, it allows you to collaborate with third-party components for advanced features.
2. Mailchimp
It is the best marketing automation platform and a great email marketing service. Email is the best way to create awareness about your brand. With Mailchimp, you can get a better ROI and focus on the visual aspect as well.
Mailchimp's community has hundreds of email templates that are available for use. These templates cut the vendor's time and allow them to focus on delivering the best email solutions.
3. Prestashop
Prestashop is an open-source e-commerce solution that is at present used by over 300,000 shops worldwide. It offers incredible features to vendors for managing shipping, payment system, product listings, and more.
It also has a larger developers community that helps you overcome errors that you might encounter. It has a user -friendly interface and is easy to customize. You can't get a better choice than Prestashop if you are starting an eCommerce business.
Apart from discussed above, here are other
top CMS platforms
that you could use for your eCommerce website development.
Final Words
eCommerce software is a one-stop solution, depending on the type of the platform for hosting, payment system, and merchant tools. A professional eCommerce store can be built using different platforms, but that should deliver the best user experience is a key point.
When it comes to an eCommerce business, make sure that you choose a company that has experience in designing the best eCommerce apps, and know the latest
eCommerce solutions
.
Whether you are a B2B, B2C, or C2C, ensure that you choose the best eCommerce customer support tech support for better results. At Covetus, we have a team of experts that keep their eyes on the latest eCommerce trends going and know what to use to grow the business.