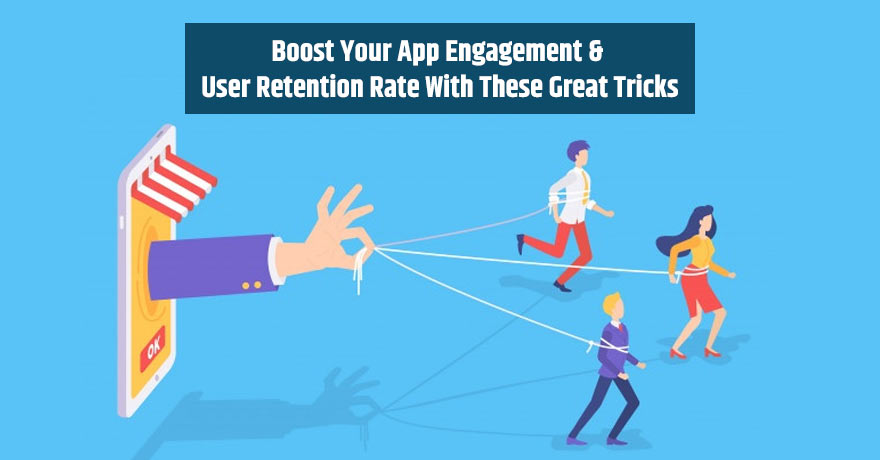 To make an application successful, all you need is to attract users and that too as much as possible. But just because someone got attracted and downloaded an app doesn't mean they will stick to it. Because the rates of users abandoning an app after use is higher. And, surveys show that the reason behind the act is that they rarely use it. Somehow that is becoming a major reason that the majority of smartphone owners delete apps.
So, what can you do to keep them engaged or make the user retention rate of your app high? Well, here we are with a complete guide to increase mobile app engagement and give users a personalized experience for higher retention rates.
But before that, let's have a piece of brief information about what is mobile app engagement and what is retention rate? Let's begin!
About Mobile App Engagement
There is no guarantee that if someone is downloading your app, they will also keep interaction, well this what we call mobile app engagement. In other words, the wish of the user to stay in the app and interact with it is what we call user engagement. By using the following formula, one calculates the Mobile App Engagement:
Engagement Rate = Likes + Comments + Shares * Number of Visitors.
So, the above formula makes it possible to determine in-app engagement. Also, it is the foremost way to realize how popular your mobile app is.
Well, the process when you start capturing the attention of users/customers, building relationships and interaction, increase the number of downloads and the loyalty of customers.
And there are cases when one loses a specific number of users, at that time, all you can do is perform so-called re-engagement, i.e., make lost or passive users start using your app again by making various changes in your app.
What is Retention Rate?
The percentage of your app's users, who return to the app within three months of their first session is what is the retention rate of your app. And somehow this helps in the average fixes an app's tawdriness such as how involved and loyal users are there for any app.
The main purpose is to keep users occupied and also ensure repeat usages for all those who are anxious with user monetization or conversion.
The Engagement and User Retention Problem
It is not deniable that achieving sufficient mobile app user retention rates and app engagement is a difficult task. As a fact, one study suggests that around 23% of users abandon an app after one use.
Reports say that almost a quarter of users still desert applications almost immediately, but still, there has been a slight improvement in user abandonment rates in recent years.
Furthermore, there is a 60% chance that the app will never be opened again if it is opened only once in 7 days. The reality is, users have a lot of choices, and mobile app developers are up against the same competitive market.
Increasing retention and engagement will automatically lead to more loyal and active app users.
Ways to Increase App Engagement and User Retention
Here we will discuss the most tried and tested methods that will help you produce results that many brands are even failing to achieve.
1. Easy Onboarding
It is not a huge feature but surely can reduce abandonment rates. Yes, offering a seamless onboarding experience can significantly help with abandonment rates. It is a simple concept that the more difficult you keep the sign-up process like – too many information fields, too many steps to sign up, complex features/functions, etc. – the more easily users will abandon it.
And, the proverb about 'First impressions' that they are imperative is intact with user experience as well. Effective onboarding has been shown to increase user lifetime value by up to 500% well apart from ensuring users don't abandon the app.
So if you also think that your app does not have an easy onboarding process, then you can follow these steps to create an intuitive, frictionless app sign-up process.
a. Make account creation and login easy (reduce steps for a sign-up, offer multiple registration options like social media integration, etc.).
b. Don't burden users with data from the get-go. Rather, offer functionality/feature guide as the user gets to those features.
c. To expose gestures/actions needed in the app experience, teach through action.
Why is it Important?
It is all-important because, for all these reasons, one more common reason why your app fails or why people stop using the app is that they don't understand how to use it or especially how to sign-up. So, for that, you can offer a tutorial based on the sign-up method that guides users what they're supposed to do to finish first success and how-to begin with the app.
At this stage, you don't have to create a 20-step tutorial that will show them every single feature of your app, but you need to guide users to get started.
However, you have to leave room for exploration; since it will improve engagement and app retention even when the guidance is necessary. Here are the methods you can try during the onboarding process:
1. Interactive tutorials
2. Progress bars
3. Coach screens
4. Walkthrough
5. Tooltips
6. Training videos
7. Screen overlays
In all, the above ways not only help teach new app users but also make them feel that they are not alone.
2. Include Notifications and Updates
Well, ​in every mobile app despite what category it belongs to, notifications are important. The app can be easily forgotten and will eventually be uninstalled from the device if a user does not receive them with a certain frequency.
However, we are not saying that you start sending notifications every 10 minutes because that will only help you become a source of spam to your users or would be risky in terms of user retention. Yes, one can easily deactivate or uninstall the application if they get bothered by the notifications. Keep in mind that sending too many notifications could be a mistake which you need to avoid while making an app.
Do not forget sending notifications can only make the user remember the application if the notifications are somehow sharing relevant information to them. So, the main concept behind sending notification should be that it must contain information relevant to users.
Another vital point behind its consideration is the updates. Keep the application updated, keep adding new functions, and also keep correcting errors. And, most important is to keep the people aware of all these via notifications. So, that way, the user comprehends that the application is still active.
Well, for better results, use Push Notifications.
Use Push Notifications (The Right Way)
To increase user retention, specifically Push notifications have shown a great way, with statistics showing anywhere from 56% to a 180% improvement. It has been reported that users who have opted into getting push notifications manifest 88% higher app engagement in comparison to those who haven't.
Push messaging serves essential as well as particular functions. Through targeting, messages based on behavioral data and preferences can also help encourage usage if implemented effectively. Moreover, it can help engage users by providing them a compelling reason to return (for instance, promotion or discount on a product/service) especially for applications that serve very specific functions that one may not perform every day.
As stated by Single Grain's Guide to Mobile App Advertising, push notifications help in capturing a user's attention instantly to send them straight to your app to perform a specific action.
But you need to play very carefully; if you any way implement push notifications and send users an irrelevant which almost everyone considers annoying, it will create the opposite effect.
3. Offer Incentives for Frequent Use
There is one of the most common objectives of every app, which is to have lots of active users or have it installed on most devices. However, this objective is difficult to achieve, with so many applications existing in the App Store and Play Store. It is not only difficult in online markets where a large percentage of apps are free or contain additional premium features, but there is strong competition in the users' devices as well.
So, to increase the frequency of application usage by your users, one way is to offer some reward for logging in. It is simple: you can deliver discount coupons if it is a payment application, or you can offer special bonuses or promotional items if it's a game. Only the type of application that you have created determines the type of incentive that you give.
Additionally, do not forget to use social networks and other media where your application is present to reporting incentives through notifications because this way, you can get the attention of the users. Also, you can choose the best mobile app development company to hire dedicated developers to use this feature perfectly.
4. Include Elements of Mobile Personalization
Arguably, one of the most important aspects of a compelling application is Mobile personalization. Customization helps offer a more relevant and unique experience to the user. Ultimately, the more likely users are to continue to use the application, the more aligned the experience is with a user's needs and preferences.
Gone are the days when apps were used to deliver uniform experiences. So, by using known data to display relevant content and material in the app, personalize the user experience whenever possible as it is clear that tailored insights and personalized content deliver real value to the user.
Maybe an easy way to personalize is including the user's name on screens and in messaging, but we can not deny that push notifications are hyper-relevant to the particular user. Yes, it is the place where personalization truly thrives.
As a fact, there is a 54% conversion rate by tailoring push notifications to user interests versus 15% from broadcast messages. So you should meet users' demands by tailoring their interactions to their preferences, location, and individual behaviors as they are asking for greater personalization.
5. Encourage Two-Way Communication
Let's understand it this way; if you let anyone feel that their opinion is important, they would love to be connected with you. Similarly, asking your users for their feedback will confer that their thoughts are important for you or being considered to drive the app in the direction they want it to go.
Well, opening these lines of communication with your users offers an added benefit that is most probably they won't be as likely to post a negative review on the app stores especially as they can tell you directly.
Also, addressing any questions or showing responsiveness towards concerns will not only boost your engagement and retention rates but also build long-term brand loyalty along with encouraging positive reviews.
For better results, you can try by including a contact button in the application. So, if there is a contact option on your app, users could easily write comments indicating any query or reporting an error. As soon as one of your users uses this means of contact, tell them the message has been sent successfully by sending an automatic response or indicating in a window.
However, there are times when you may get the same queries again and again. For those cases, you can build a section of "Frequently Asked Questions" in your app. So, the new users will be grateful as they can find answers to their questions in this section.
Concluding Words
It can not be denied that the competition in the mobile application market is high; therefore, you need to plan to not only make the users install your app but also use it regularly. The installation of the app is based largely on its score and comments in the respective application market plus the utility or purpose of the app.
You can consider the comments and suggestions of your users for future updates for better results. Maybe while checking, you find that a large number of users are requesting a particular feature and you may be able to add it into the future. You can also achieve it by contacting us, a proven mobile app development company, to hire dedicated developers for the completion of your task.
Beyond all, implement these five mentioned ways to not only increase mobile app engagement but also give users a personalized experience.
Follow These App Engagement Strategies to Retain More Users & Make Your App Successful!