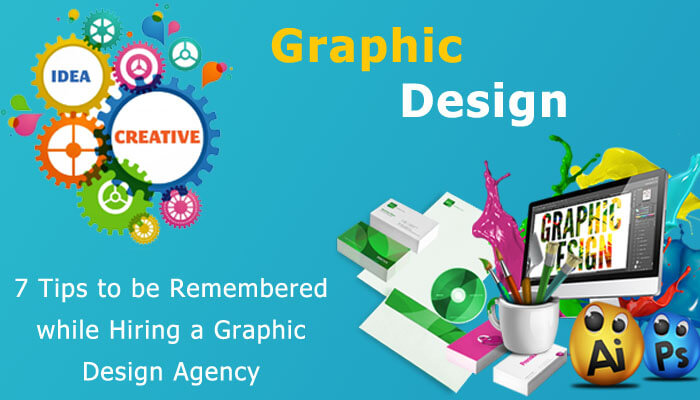 The graphic designers create designs that are visually appealing, user-friendly, and captivating. Graphic design is also one such category that comes under Web Designing where the work of the designer is highly challenging and interesting. They also design graphics that speak to the senses and yet conveying a meaningful message. 
To complete the task, you need a team or agency to get the best outcome or result. So you can consult the Graphic Design Agency where they provide solutions to your business and help it to boost and grow further. Graphic Designing is a combination of creativity and technology together.
When these two terms come together, the outcome is great and amazing. So let's see the criteria or the tips we need to remember while hiring a Graphic Design Agency. Markets are filled with very talented designers, but they are not all the same. Creative ability is only one piece of a larger puzzle. The functional and practical application of that talent is where you need to distinguish and choose the best from it.
Steps to be Considered While Choosing a Graphic Design Agency
Here, we have outlined seven important tips to consider while sorting through the field of available talent.  
1. Creativity
Creativity is inventing and experimenting with things that help you to paint the canvas of your life. It is obvious that creativity may also be the single most important quality for graphic designers. For most agencies, creativity means beyond imagination, technical skills, and producing a completely unique and original work-frame. The
Graphic Design Agency
has many tools and technique that enhances your business to another level.
The agency helps you to express your style to meet your specific goals or targets. Creativity varies and graphic design is a form of art. What makes the art or design appreciated from this point of view is originality and simplicity. So start with a creative resume design that carries your theme through your portfolio.
And also displays your best things in your portfolio. Do not add all the designs that you have created. It is not about displaying 15 decent designs; it's about displaying 5 great pieces of designs. So look for that agency that has the creativity and also has ideas that make you think out of the box.
2.
Experience
"Experience is the teacher of all things" which means when you have the experience you can be a good advisor, consultant, guide philosopher, and much more in life. The same is with the agencies out there. The more diverse and experienced agencies the better they are. While the designer's range may vary i.e. the person who has worked in an ad agency must have served vagarious varieties of clients and corporate designers have more disciplined skill techniques.
So if you get a combination of both then you will have the best that they could offer. And that's where experience is an asset. If you can show that you've worked successfully with a few clients over longer periods of time, it shows you're reliable.  Companies might take a chance on a fresher graphic designer, but when it comes to big projects they will always go for the experienced agency.
Another best way to build your experience is to take on enough different jobs to build your portfolio without degrading the quality of your work. You must check that whether the designer has done some work before similar to yours or solved design challenges similar to yours. Because this helps you to mark the best of the best Graphic Design Agency.
When we talk about the experience, we mean that you do not have to invest time in training them, so spend valuable time searching for the best Graphic Design Agency that has done some great work in the past few years. Thus, experience is one of the vital factors in selecting the best Graphic Design Agency.
3. Portfolio
"The secret to having a great
Graphic Design Agency
is to have a great portfolio."Your portfolio is your identity card for great projects. The quality of the portfolio matters a lot. Your portfolio should be impactful and impressive too. Try and keep the portfolio short and intact. Do add your personal touch to your portfolio.
Look for graphic designers and agencies who present a broad variety of work for a wide range of industries and clients. See how their strengths align with your immediate and long-term needs. If you're looking for a particular industry dig deeper and find the most appropriate match for the design. On the whole, focus on quality over quantity every time
4. Communication
"The art of communication is the language of leadership" which means that communication is a two-way process. Communication plays a vital role in any field of industry. This is twofold that expects you to answer messages, pick up the phone, and maybe answer emails is also a way of communication.
Your personality and your behavior also define the way of communication. Provide lines of communication and assure that you respond back to the calls or messages by the agency. And if you have something to ask and you are nearby, just walk in. If you are busy or not in town let the concerned authority know and will be done through communication only. And it will be an n added bonus if we have someone to resolve the conflict and speak up when we have something to say
5. 
Time Management
"Time is the coin of your life, only you can determine how it will be spent". Time is precious and it needs to be respected. Once you are allotted a task and a deadline is given then you should meet the target and value of time. You need not work long hours to complete the task, just be dedicated and d punctual to your work.
Rushing jobs has a drawback, they aren't professional, and might force an agency to start from scratch, and missing deadlines can be even worse. You should hire an agency that works by work ethics and guidelines. To complete a project you need to meet the timeline which shows your dedication towards work and makes your agency also shine. If a Graphic Design Agency meets all the features then you must grab the opportunity.
6. Cost Factor
The agencies where your projects are being completed have to be cost-friendly. If the work is done on time, the quality is good and hold appositive attitude must be offered the apt cost for which they are suitable. You must hire or look for experienced designers who need less direction, work more efficiently, and can adjust to the situations. Finding a cost-effective designer should have some special features. In short, pay what you're worth, and be prepared to negotiate with the agency that why are you worth that pay. It's a skill just crafted with intelligence.
7. Originality
To score good roles you have to be original "you've got to do a brief that no one else does, do them with ideas that no one would actually approach them with – both strategic ideas and creative ideas and use mediums that no one else has thought of." In short, your agency should stand out from the crowd that makes people remember you and your work.
On the whole, graphic designing is an art that caters to all the technologies and craft which make your website more interesting and impactful. Thus, for such modifications and powerful impact visit the best Graphic Design Agency which provides you a variety of designs and features.