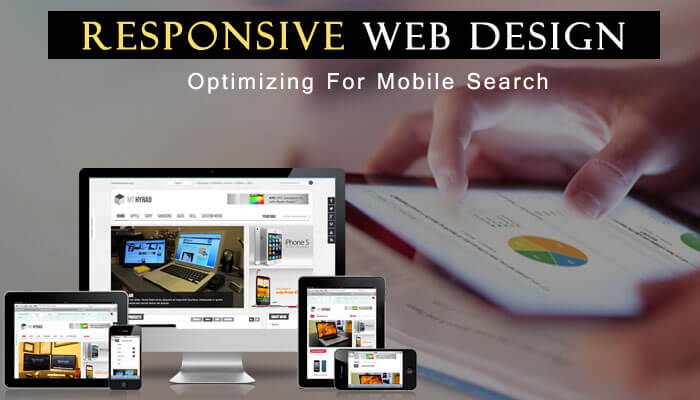 The use of mobile phones has become more prevalent in the day-to-day life of most people today. The growth of mobile phones is unceasing, and it is of great importance to have some tactics in mind to win mobile searches in the coming time. Responsive Web Design for web development has already come into dominance, and now, it is time to understand it in a better way.
It is indisputable that mobile technology is growing rapidly. It was already an important factor for all the website owners to design their websites in a way that they run smoothly on mobile phones. But, when in April 2015, Google's mobile-friendly algorithm update rolled out, the websites struggled to ensure that all their pages are mobile-friendly and are compatible with all mobile devices.
Google Mobile-Friendly Algorithm Update – How Important is it?
The goal behind this mobile-friendly ranking algorithm is to give preference to the websites or web pages that are responsive, i.e., the mobile-friendly pages will be able to hold a higher position in Google's mobile search results. It came with a mobile-friendly test tool through which you can easily find out about the mobile-friendliness of the pages on your website.
With the help of this tool, you can easily assess your pages, and the pages with Responsive Web Design will certainly help you in attracting an impressive amount of online traffic.
Is Mobile Surpassing Desktop for Google Search?
And the answer, without a doubt, is yes! Mobile is now ready to overcome the use of desktops in the area of Google search globally. According to the BrightEdge
research
, highlighting the results for Q3 of 2014 indicated that the purchasing or the online shopping orders through mobile are nearly the same as that of those done through the desktop.
Mobile, being the basic requirement of the modern world, is used for almost every big and small activity conducted by the people today. Undeniably, people use mobile phones for their routine internet needs no matter if it is browsing, surfing or shopping, or anything else. As 2015 is at its end, and we are heading into 2016, the fact is known that mobile trend will be dominating more of the online activities of the consumers.
To keep yourself safe and your brand in the same position where it is now, you must know that your website should be mobile-friendly, and all the pages must be optimized with a view that people may open or browse your page on their smartphones or any other mobile device.
Steps to Achieve Mobile Search in Future
Here are a few ways that will help you in understanding the requirement of mobile-friendly and
Responsive Web Design
.
1. Understand Customer's Requirement
Once you understand what your customer is doing on the mobile and what do they look for when they see your website, then designing a mobile-friendly website becomes much easier. You have to keep an eye on your customer's behavior on your current mobile site and then compare it to the behavior on the desktop.
From this, you can easily understand how the mobile site is leveraging buying decisions, and you also see what pages mobile users most frequently visit.
2. Target Audience
Once you have decided to go for
Responsive Web Design,
analyze your customer's behavior and use the information to build a layout that takes the mobile behavior into consideration. Most of the websites in this situation will feature information like store hours, organizing the look and feel of the site, along with the content so that it perfectly fits the screen of the mobile or other such devices, adding menus or buttons with click to call option so that it is easy for the customers to get in touch with the brand without any difficulty.
3. Create Action-oriented Content
Creating action-oriented or local content will surely benefit mobile users. Mobile users mainly look for options like address, phone number, or information that is required to make a purchase. You easily drive more customers towards conversions. Do not ever neglect the power of local when it comes to
Search Engine Optimization
, especially when attracting customers and drive more traffic to your website. Keep factors like page load time, etc. in mind.
4. Engage Your Customers
The best way to keep your customers engage on your site is to build a website that is well organized and let your mobile users navigate your site with complete ease. Your primary goal while building a Responsive Web Design should be to keep the content organized to fit the arrangement this will not only make your content easier to read and understand for the mobile users but will also increase the engagement rates.
5. Work to Encourage Conversions
Once a properly navigated site is ready with attractive and engaging content, then this will definitely encourage conversions. One point that should always be kept in mind is that action-oriented content is always a good choice if your primary goal is to attract customers and hit that 'buy' or 'Purchase' button on your page.
6. Keep Monitoring
For even better performance, you should always keep a watch on your mobile site. You should know how well your site is performing, especially the content and the design. The bounce rate must be less than the average for each page. Otherwise, this may have the wrong impact on your website.
7. Analysis Plays an Important Role
How your customers interact with your mobile site is of utmost importance when you are measuring the result of the performance of your website. You should know how it is influencing the behavior of your customers no matter what medium they are coming from. Keep track of your conversions or other similar factors that helped you in reaching that height. This will certainly help you achieve better.
Mobile has entirely changed the world of communication and technology. It has already taken the world by storm, and as the graph goes, it does not seem that it will ever come down. The growth of mobile phones will even go higher in the coming years. People are recognizing the convenience of using mobile to access the internet or to participate in mobile commerce.
The two major factors that will be the key features of Responsive Web Design or mobile strategy in 2016 will the location-based marketing and mobile payments. The websites that want to remain ahead of the league have to optimize their site in a mobile-friendly manner and should keep track of the performance.